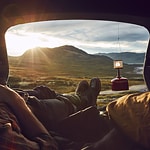 There are a few ways that you can make your money go further the next time you adventure outside of Cleveland, OH. From planning ahead to maximizing your mileage, the team at Central Cadillac wants to help. These are a few of our favorite tips.
When it comes to planning, we recommend looking for hotel deals well before you leave. You can get better rates than if you simply walked into the lobby and asked for a room. Ideally, all of the hotels you book will include a free breakfast.
Fuel costs are a necessary evil. Make the most out of every tank of gas by reducing your driving speeds on the highway. Many vehicles get their best fuel economy around 55 mph. You should also regularly check your tire pressure because over or under-inflated tires can reduce your gas mileage more than you might think.