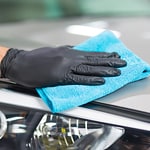 Have you ever wanted to clean your car but thought it would take too long? That doesn't have to be the case when you have the right tools and materials. The fastest way to clean your car is to use a garden hose with a spray nozzle, bucket with fresh water, car wash mitt, and car shampoo.
When washing your car quickly, you'll first pre-rinse to get rid of any loose dirt and grime that will easily rinse off. Then, you'll use the car wash mitt with car shampoo to clean off any stubborn debris. It's best to wash with a side-to-side motion rather than circular, as that can lead to more streaking.
At Central Cadillac, you can get the best car detailing service in Cleveland, OH with extra services to make your car shine like new every time. We also provide interior detailing with a full vacuum to ensure your car looks its best on the inside too.