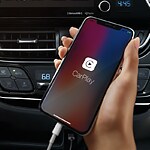 Apple CarPlay is an Apple standard that's been available since 2014. Its main feature is its ability to link your iPhone with your car's infotainment platform. Once linked, everything on your iPhone becomes accessible through the infotainment screen. Plus, smartphone integration supports Siri, so you can access your iPhone hands-free while you drive.
Hands-Free Phone Calls and Audio Messages
Life is great, but it's busy. Sometimes you have to network and do business on the road. Apple CarPlay makes it that much easier. With your phone and infotainment platform synced, you can make calls, listen to voice mail, or send audio messages ahead of you, all hands-free. You don't even have to look at your iPhone while driving, meaning you can get business done while focusing on the road.
Apps, Apps, and More Apps
With the CarPlay link in place, your iPhone's apps remain available to you, displayed and accessible through your vehicle's infotainment touchscreen. Pull up Apple Maps, and relish detailed, 3D graphics paired with up-to-date turn-by-turn navigation.