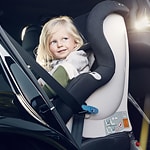 When you use a child safety seat in your vehicle from Central Cadillac in Cleveland, OH, you're helping keep your child safe in the instance of a car crash. You'll need to make sure that you're investing in the right seat, which will vary based on the height and weight of your child. When it comes to installation, we have some tips for you.
-It's always a good idea to follow the manual instructions that came with the car seat that you bought. These instructions are designed to provide the right fit that will keep your child safe.
-Consult with your owner's manual to see if there are any additional instructions that you should be following for your make and model of vehicle.
-Don't keep an old seat around that has expired or that has been involved in an accident. If your child has outgrown their current seat, it's time to replace it.